About Us
Perrydown has been established since 1987 with over 25 years experience manufacturing cushions, pillows & upholstery seat and back units. We have all the feather, hollow fibre and down soft furnishings you need to complete your desired interior décor.
bespoke orders
Come to us for all of your elegant soft furnishings and upholstery needs, whether its standard sizes or bespoke shapes you're looking for, we can tailor make our products to meet your needs specifically.
We have built our reputation on the quality and value of our filled soft furnishings which is proven by our positive customer feedback and continued satisfaction.
retail
We supply to a range of high street retail outlets such as House of Fraser and Selfridges with high quantity orders. At the same time we also offer our services to independent retailers, wholesalers, upholsterers and craft enthusiasts, many of whom may wish to place small orders or even one off bespoke pieces.
Therefore, whatever the size of your order- we'll be happy to assist you.
We are sure you will find what you're looking for in our store, if not please be sure to contact us with your requirements.
Review our Environmental Policy
Read how Perrydown are acting responsibility within the framework of their business and are striving towards a greener future.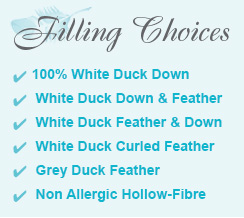 I received my window seat cushion this morning and am absolutely delighted with it. Thank you for making the process so easy and for your excellent service and product. — Claire Farmery