Bespoke Cushions & Pillows
Bespoke cushions or made to measure service
Perrydown not only supply standard/regular cushion inners but we also specialise in creating bespoke cushions and upholstery units.
Bespoke products
We offer this service to enable customers to design their own cushion to the specific dimensions they require. We have found that this particular service is popular with interior designers who focus on creating unique ranges of cushion sizes. We also find this is an admired choice for independent retailers who, by using this service, are then setting themselves apart from other retailers who solely provide generic, standard sized soft furnishings to their customers.
Since Perrydowns inception, we have received a wide range of requests for very individual and unusual sized cushion pads and other items. These range from tiny pin cushions to large acorn shaped floor cushions- so whatever shape or size you require, we can tailor make our products to meet your needs specifically.
The images below show a range of bespoke, one-off and made-to-measure cushions we have recently created.
Upholstery Cushions
Creating upholstery cushions on behalf of upholsterers and interiors designers is something we feel we excel in offering and we have become the main seat and back cushion supplier to two chair and sofa manufactures based in the north west who we work closely with developing the products. We provide a comprehensive variety of filling options, so you'll be sure to find exactly what you're looking for. Construction of upholstery cushions is dependant on its specific function. Once this is established, internal gussets are then securely fitted to ensure the filling stays in place once in use.
We frequently use this method to re-invigorate old sunken chairs which have perfectly good covers but the fillings have simply lost their supporting properties. Also we find a large number of customers requesting one off upholstery cushions for bench or window seats. Feather wrapped seat and back cushions are a way of having the comfort and feel of feather but the support of foam and convenience of not having to plump the cushions up. To achieve this we make the cushion into three sections with the middle section accessed with a zipped closure so the foam can be changed if required, see photo bottom right.
The images below show a range of bespoke, one-off and made-to-measure upholstery cushions we have recently created.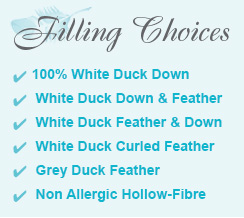 I received my window seat cushion this morning and am absolutely delighted with it. Thank you for making the process so easy and for your excellent service and product. — Claire Farmery