Cushion Pads
Comfort Curled Feather Cushions –
Comfort Range
100% white curled duck feather filling
Full cushions that maintain shape
100% cotton ecru cambric cover
The ultimate in cheap, yet quality cushions. The small white duck feathers used to fill these pads are pre-treated to curl them, removing their quills for added softness and allowing the cushion to keep its shape. A spring-like action creates bounce for the cushion with good recovery of its plumpness and softness – making them an ideal balance between budget and luxury.
Premium Feather & Down Cushions 15% & 30% Options-
Premium Range
Two filling options of Down
White curled duck feather and 15% white duck-down filling
For extra softness 30% pure new duck down for added bounce and warmth
Soft, plump cushions that maintain shape
100% cotton ecru cambric cover
The addition of 15% pure white duck-down to white duck feathers in this mid-range cushion filling gives additional plumpness, bounce and warmth to these cushion pads.
Infusing the two fillings of curled feather and luxurious soft white down feathers, the premium range gives a touch of class without the higher cost. For that added sense of indulgence, you can add an extra boost of down, giving the cushion pad a touch of luxury, along with more bounce and warmth.
Luxury 51% Down & 49% Feather Cushions –
51% white duck-down and 49% curled duck feather filling
Pure down added for warmth and softness for sheer luxury
Sumptuous full cushions that maintain shape
100% cotton ecru cambric cover
Our luxury cushions are filled with an even mix of white duck-down and curled duck feathers to enhance their look and comfort. The high duck-down content of these cushion pads enhances 'spring back' and recovery, to create extra softness.
Super-Indulgent 100% Down Cushions –
100% pure white duck-down
Ultimate Range for luxury and comfort
Superb heat retention & Fantastic cushion recovery
For the truly regal experience, the 100% down cushions offer top of range comfort.
The pure white duck-down is very warm and soft and, as a cushion filling, is the ultimate in indulgence. Since down has no quills, the cushions look great in sheer fabric covers such as satin or silk while the superior heat retention and recovery properties produce cushion pads with extra plumpness, softness and warmth. Super-Indulgent cushions are supplied in white 100% cotton cambric covers, which further enhance their perfect silky feel.
Budget Feather Cushions –
Non-curled duck feather filling
Competitively priced feather cushion pads
100% cotton ecru cambric cover
Our Non-curled duck feather filling produces a good quality feather-filled cushion pad. No frills (or curls) at an easily affordable price with an Ecru cover.
Everyday Hollow fibre Cushions –
Soft man-made hollow fibre filling
Ideal for people with feather allergies
Soft cushions that maintain shape
White polypropylene corvin covers as standard
The daily. Cheap and cheerful the hollow fibre cushions are filled with a high quality virgin white polyester as opposed to feather, with the difference reflected as the cheapest of our cushion fillings. They produce good quality, soft and comfortable pads that provide good support whilst retaining their shape well. They can require less plumping up than some feather alternatives.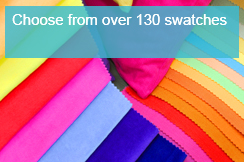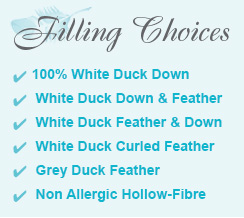 I received my window seat cushion this morning and am absolutely delighted with it. Thank you for making the process so easy and for your excellent service and product. — Claire Farmery