Filling Types
100% Pure White Down
Luxurious pure 100% down is the ultimate filling any cushion and pillow. Its fantastic lofting properties enhance its fullness, therefore offering a fantastic look to sheer covers such as satins and silk fabrics in particular. Down also has a natural ability to retain heat which is ideal for those who want an unbeatable soft and cosy feel to their cushions/pillows. The primary function of Down is to keep ducks warm when in contact with ice cold water- so its no wonder it works so well and is one of Perrydowns top sellers.
51% Down & 49% Feather
The almost 50/50 mix of down and feather has the luxury of fantastic lofting and possesses the heat retention characteristics of pure down. With the addition of feather with its curled properties, this gives weight and support to the cushion/pillow also.
85% Feather & 15% Down
The 15% of pure down in this mix provides more noticeable bounce and fullness to the appearance of cushions and pillows than you would acquire from an all feather product. However with the 85% of curled feather you still retain the support for prolonged usage.
New Curled White Feather
Curled feather filled products are noticeably different from standard feather due to the process of how the feather is curled. The method used removes most of the feather quill, therefore ensuring that it is significantly more comfortable for usage. Curled feathers also have greater lofting properties than a standard feather which guarantees your cushions and pillows will look all the more alluring and glamorous.
New Grey Duck Feather
Grey duck feather are non curled feathers that are still processed in the same way as all are other natural fillings although they don't go through the curling process consequently they don't have quit the same lofting properties as this filling is aimed at the more economical range of cushion pads.
Hollow-fibre
This light and wonderful synthetic filling is created to bring luxury to those who prefer a man-made filling for its hypoallergenic properties in particular. Hollow-fibre also has tremendous lofting properties and, like our other products, provides the ultimate in warmth and comfort as standard.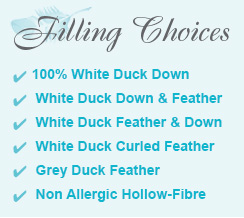 I received my window seat cushion this morning and am absolutely delighted with it. Thank you for making the process so easy and for your excellent service and product. — Claire Farmery