Product Range
Perrydown's standard products consist of a variety of generic shapes such as square; round, rectangle and heart well filled cushions, as well as cylindrical/flat pillow style bolsters and pillows. An orthopaedic pillow is also available in the Hollow-Fibre range. All of the standard Perrydown products are available in the following ranges:
Comfort Range
100% New White Curled Duck Feather
Premium Range
85% Curled White Duck Feather & 15% Duck Down
70% Curled White Duck Feather & 30% Duck Down.
Luxury Range
51% Duck Down & 49% Curled White Duck Feather
Ultimate Range
100% Pure White Duck Down
Hollow-Fibre Range
100% Non Allergic Hollow-Fibre
Standard Range
100% New Grey Flat Duck Feather
Perrydown not only supply standard/regular cushion inners but we also specialise in creating bespoke cushions and upholstery units which cater to your own specific design and price budget.
For further information on this, please visit our be-spoke page, or alternatively you can contact us directly via our contact us page to receive our trade catalogue.
Product Covering
Feather filled products are encased in 100% Cotton Cambric ecru covers which meet to BS 1425 complying fire regulations as well as being dust and feather proof. The option of white covers is also available on request. For further information, or to establish prices for these; please don't hesitate to contact us directly.
Hollow-Fibre filled products are covered in a white polypropylene corvine cover as standard which conforms to BS 5852/2. White poly/cotton covers are also available in this range. For further information, or to establish prices for these; please don't hesitate to contact us directly.
No Minimum Order Quantities
Here at Perrydown, we pride ourselves in offering a service whereby we offer a no minimum quantity order value. In other words, you can request a single one-off bespoke order which we will happily undertake and send to you with a quick turn around time. If you require varying quantities and sizes with different filling options, again, Perrydown will be happy to undertake your bespoke order and send the finished products to your door in a very competitive turnaround time.
Packaging
When your goods are dispatched, we uniquely vacuum pack all products. This method of packing is particularly beneficial for customers receiving multiple orders, as it greatly reduces packaging size and thus provides you with extra space if you wish to place them in storage for a given duration.
Service & Ethos
We are confident that you will find all of your elegant soft furnishings and upholstery needs at Perrydown. Whether it's standard sizes or bespoke shapes you're looking for, we can tailor make our products to meet your needs specifically. We have built our reputation on the quality and value of our filled soft furnishings which is proven by our positive customer feedback and continued satisfaction. Our ethos is to work alongside our customers and like to see ourselves as an extension to your business, whereby we can offer assistance any time. Urgent requests will happily be undertaken and delivered to your door as a priority.
For more information, please don't hesitate to contact using the variety of options on our contact us page including our trade catalogue request option.
One of our friendly advisers will be more than happy to offer further guidance following any queries you may have.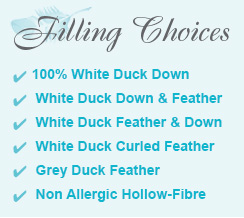 I received my window seat cushion this morning and am absolutely delighted with it. Thank you for making the process so easy and for your excellent service and product. — Claire Farmery